Building resilient communities-Help us break the transmission
A COVID positive 18-year-old tribal student isolated himself on a tree for 12 days to protect his family.
The second wave of the COVID-19 pandemic has crippled India. Our urban medical infrastructure is collapsing under the sheer number of cases. Private hospitals are running out of beds, oxygen, and medical supplies, which are critical to fight the pandemic. We can only imagine the plight of rural India.
Why rural India needs help!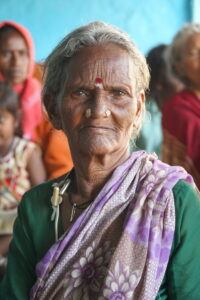 Most of our local communities do not have primary health care facilities, and government hospitals are only found in larger towns. Isolation is a luxury for most Indian households, and for some its not possible. With no isolation wards, immediate medical attention and resources, the pandemic is expected to spread in rural India at an unprecedented rate.
Bannerghatta National Park has over 150 agrarian communities with a population of one million people. We are seeing about 35 new cases a day, and these numbers are increasing due to Bannerghatta's proximity to Bangalore. The affected local communities are the primary stakeholders for conservation efforts in the area. Farmers often experience negative interactions with wildlife, which results in monetary loss. A COVID-19 medical emergency on an already financially burdened family, could mean a matter of life and death.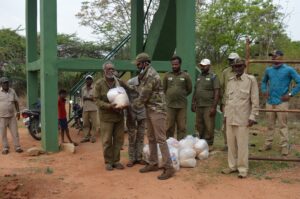 A Rocha India COVID-19 relief work
Since the pandemic first hit India in 2020, A Rocha India has been providing relief work to the local stakeholders of Bannerghatta. Last year we provided food provisions and basic supplies to 56 migrant families who could not go back home to their villages in Northern India. In collaboration with the Karnataka Forest Department, we supported the frontline staff and their families. Forest staff were stationed at anti-poaching camps to stem the increase of poaching activities during the national lockdown.
Press Coverage: INSPIRE INDIA: India Fights Corona Virus
Breaking the transmission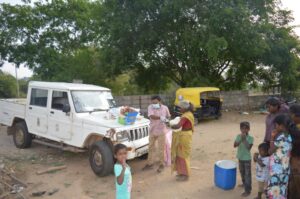 Our goal is to reduce mortality and morbidity of the COVID-19 pandemic in rural Bannerghatta by breaking the transmission. We have partnered with local health care centres to provide medical supplies and food relief for affected local community members. We have also partnered with local gram panchayats in Bannerghatta to create isolation wards for COVID positive cases.
Through our program we aim to:
– Increase community awareness about the spread and prevention of the COVID-19 virus.
– Provide support to the local community health centres.
– Create isolation wards for affected patients.
Please consider supporting our local communities at Bannerghatta. Help us create a resilient community by aiding them in their hour of need. Donate to A Rocha India COVID-19 Care Campaign
Account Name: A Rocha India
Bank: HDFC Bank (MG Road)
Account Number: 00761000116947
IFSC Code: HDFC0000076